Before getting in to the list of who we think are the top 5 upcoming goaltenders, we wanted to give a disclaimer and clarification as to who qualified for this list. We wanted to specifically focus on goalies who have been drafted but have not had any NHL or extended AHL experience.
Some of our honorable mentions if our list was including rookie goaltenders who have seen a bit of NHL action or had a season in the AHL and are still deemed as prospects are, Carter Hart, Thatcher Demko, Jake Oettinger, Kaapo Kahkonen, Cal Petersen, Michael DiPietro, and Adin Hill.
1.Spencer Knight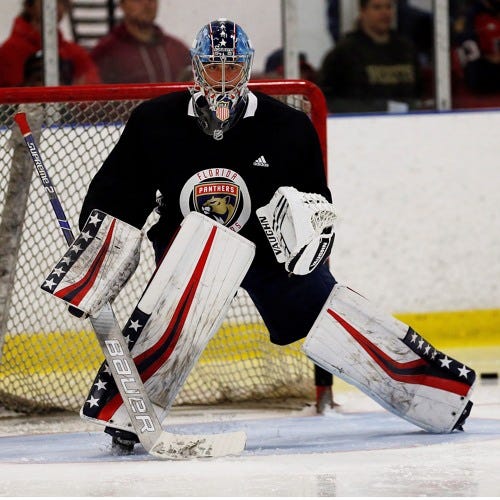 Drafted: 1st Round 13th Overall by Florida Panthers
Place of Birth: United States of America
Height: 6'3
Previous Team: United States National Development Team
Projected Team 2019-2020: Boston College (NCAA)
Starting off with the obvious choice, Spencer Knight. Knight has spent the last couple years playing for the U.S National Program and been consistently turning heads. Some notable achievements from Spencer Knight come from this past year, earning the best save percentage and goals against average at the U18 World Junior Championship as well as a U20 World Junior Silver Medal.
With the recent signing of Sergei Bobrovsky to a 7 year contract with the Florida Panthers, we can only wait and see what the future holds for the 18 year old Spencer Knight. We hope to see Knight in the NHL with Bobrovsky as his mentor in the near future.
2.Ukko-Pekka Luukkonen
Drafted: 2nd Round 54th Overall by Buffalo Sabres
Place of Birth: Finland
Height: 6'4
Previous Team: Sudbury Wolves (OHL)
Projected Team 2019-2020: Rochester Americans (AHL)
Next on the list is a goaltender that shows a lot of promise to become the future starter for the Buffalo Sabres, Ukko-Pekka Luukkonen. With easily the coolest name on the list, Luukkonen has proven over the past couple of years how much of a game changer he can be on the big stage. This past season he brought his talents to the OHL and listed himself as Goaltender of the Year, OHL's Most Outstanding Player, Best Save Percentage (.920), and OHL First All-Star Team. Luukkonen also had an unbelievable showing at the World Junior Championships, taking the Gold Medal and being named to the All-Star team.
After his season in the OHL, Luukkonen had one showing in the AHL for Sudbury and ended the game with a .941 save percentage with a 2 GAA. If you have not seen this guy in action, we recommend you check out his highlight reel from his OHL season here. The future is bright for the 20 year old and we hope to see him as a franchise level goaltender.
3.Cayden Primeau
Drafted: 7th Round 199th Overall by Montreal Canadiens
Place of Birth: United States of America
Height: 6'3
Previous Team: Northeastern University (NCAA)
Projected Team 2019-2020: Laval Rockets (AHL)
Next up is the lowest draft pick on the list at 199th overall but just might be the biggest goaltending steal of the 2017 entry draft, Cayden Primeau. Primeau has spent the last two season at Northeastern in the NCAA gaining a ton of experience with older players. This past season was defining for Primeau's career, earning himself the Mike Richter Award for being the NCAA's Top Collegiate Goaltender along with winning the NCAA Hockey East Championship.
Cayden Primeau had himself a good outing this past year at the World Junior Championships with Team USA, having a 1.61 GAA and a .936 Save Percentage through five games on the way to a silver medal. Primeau has been talked about as being the replacement for Carey Price once his career reaches its end. Similar to Spencer Knight and Sergei Bobrovsky, we hope to see a mentorship grown between Price and Primeau in the next couple of years and just maybe, we will have another dominant NHL starter like Carey Price.
4.Mads Sogaard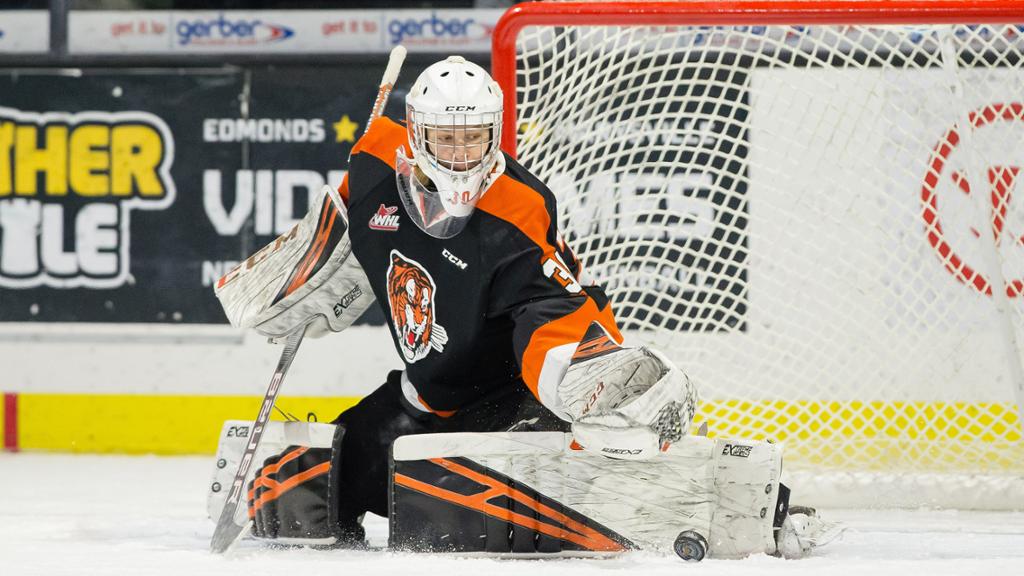 Drafted: 2nd Round 37th Overall by Ottawa Senators
Place of Birth: Denmark
Height: 6'7
Previous Team: Medicine Hat Tigers (WHL)
Projected Team 2019-2020: Medicine Hat Tigers (WHL)
Approaching the end of the list, we come to the 6"7 monster from Denmark, Mads Sogaard. Although Sogaard hasn't shown great numbers in international play, his numbers don't determine how good of a goaltender this guy can be. Being only 18 years old gives Mads Sogaard time to develop his game even further than it is now and with his size, Sogaard could potentially be a top 5 goaltender in the future.
This past season, Sogaard had a consistently good season last year in the WHL, ending with a 2.64 Goals Against Average and a .921 Save Percentage through 37 games. His only notable award from this past year is earning himself a spot on the Second All-Star Team in the East of the WHL. Hopefully we will see Mads Sogaard have a dominant season in the WHL next year and move up to the professional level soon.
5.Filip Larsson
Drafted: 6th Round 167th Overall by Detroit Red Wings
Place of Birth: Sweden
Height: 6'2
Previous Team: University of Denver (NCAA)
Projected Team 2019-2020: Grand Rapids Griffins (AHL)
Last but not least on our list is Swedish goaltender, Filip Larsson. This past year, Larsson played at the University of Denver and started 22 games with a 1.95 Goals Against Average and a .932 Save Percentage. He was named to the NCHC All-Rookie Team along with being an Honorable Mention for the NCHC All-Star Team.
In 2017-2018, Filip Larsson played in the USHL and had the best GAA at 1.65, Save Percentage at .941, and was named to the USHL First All-Star Team and USHL Goaltender of the Year. Larsson is expected to make the jump to the professional level to play for the Grand Rapids Griffins in the AHL this next season and we hope he keeps steady on his development. Will we see Filip Larsson become the big starter for the Detroit Red Wings? We certainly hope so!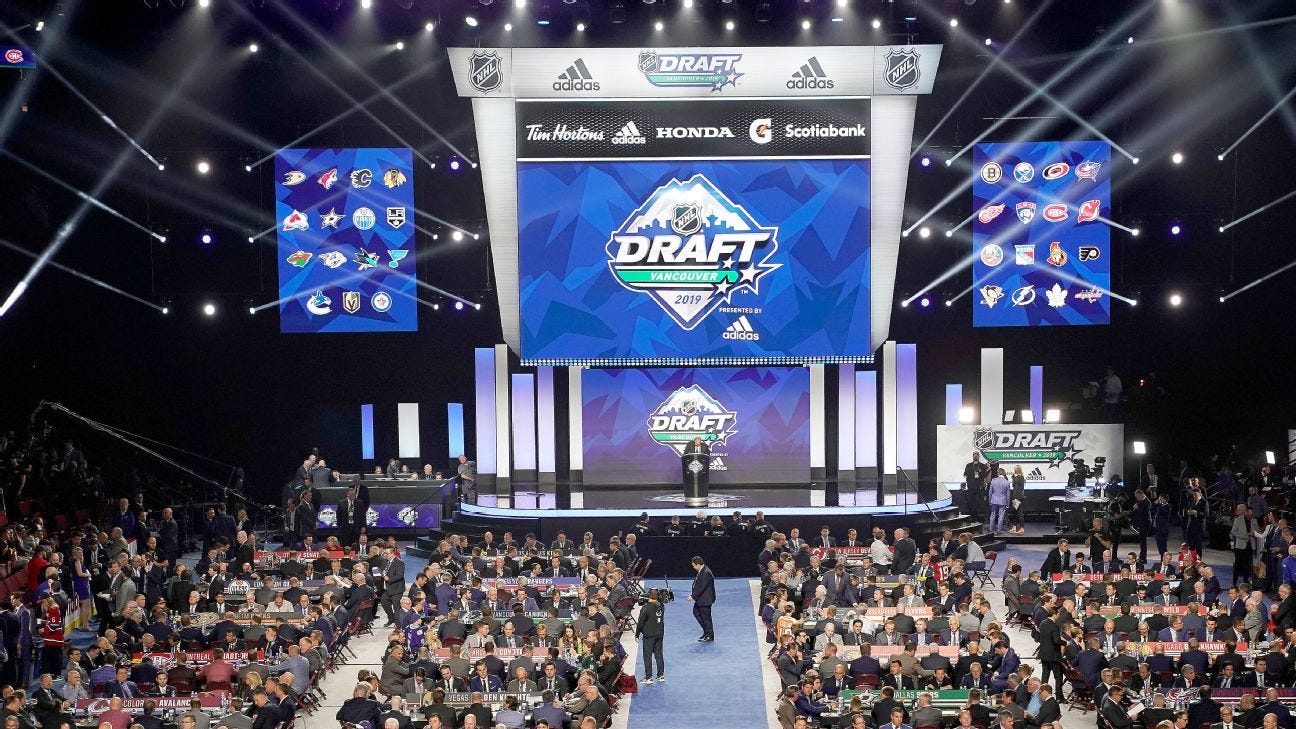 The future is never certain for a goaltender that is coming up to the NHL. In recent years we have seen the recent upcoming of goaltenders such as Matt Murray have the playoff run of a life time and solidify his position as the starter of the Pittsburgh Penguins. More recently, Jordan Binnington who turned the St.Louis Blues around from being the worst team in the league to winning the Stanley Cup is just now showing he has what it takes to get paid a starters salary after five years in the minors. The path of a goaltender becoming a starter is almost never the same and we believe, however it may happen, these five goaltenders we named today will have success at the NHL level.
This article was originally published on August 23, 2019, and has been updated with new information.