Few pieces of gear in hockey are more iconic than the goalie mask. From its beginnings as a crude piece of leather or fiberglass to appearances in pop culture and stunning modern day artwork donning NHL goalies, fans and goalies alike have fixated on goalie goalie mask as an icon in the sport. No piece of equipment in all sports is more personal than the goalie mask, and for this we will take a trip through the history of the mask, the different styles through the ages, and what makes a goalie's mask so important to their equipment setup. Through this article we will cover:
Timeline of Goalie Masks in Hockey
Goalie masks have undergone tremendous evolution through the ages. The earliest of masks were adopted from other sports including fencing and football. It wasn't until Jacques Plante popularized the fiberglass contoured face mask when masks started to become standard in the sport. Fast forward four decades to see the birth of the modern combo mask; a combination of a fiberglass shell and metal cage that has kept goalies more protected than ever.
Early 1900s
In the early ages of hockey, goalies were very restricted in the gear they wore. Not only were masks not required, but coaches were generally dismissive of masks being used in games and often prohibited their team's goalies from wearing them. Elizabeth Graham is credited with being the first goalie to wear a mask in a game, where she wore a wire fencing mask in a game for the Queens University hockey team. In the NHL, Clint Benedict began wearing a leather face guard to protect a broken nose in the 1930s, but eventually stopped wearing it as it obstructed his vision.
Birth of the First Mask
In 1959, Jacques Plante became the first NHL goalie to don a full mask in an NHL game after being struck by a shot in the first period. This mask, made of fiberglass, was snugly fitted to Jacques' face and was effective in protecting against shots in this age. Within 10 years, most NHL goalies adopted a similar style mask and few goalies were without a mask by 1970. In 1974, Andy Brown of the Pittsburgh Penguins was the last to play in the NHL without a mask.
Over the years, the fiberglass mask evolved to be more protective and more comfortable. Padding was added internally and companies experimented with new styles to suit goalie's preferences of the age. A top manufacturer of early masks, FibroSport, found that adding ridges into the forehead of the mask help increase structural rigidity of the mask and improve protection for the goalie, a design feature that is still in use today. This style of mask evolved and eventually led to the modern combo style mask.
Evolution to the Modern Age
In the 1970's manufacturers began experimenting with a wire cage in front of the fiberglass shell. This marked the beginning of the modern combo style cage; a combination of a fiberglass shell and a wire cage. This provided substantially better impact dispersion, where the wire cage absorbed the full impact of the puck and dispersed it to the outer edges of the mask and away from the goalie's head. Designs became more evolved, with contoured lines to disperse the puck's forces and more comfortable padding.
Many goalies found comfort in a combo style mask using a player's helmet and a customized wire cage. Goalies such as Dominic Hasek, Dan Cloutier, and Tim Thomas were a select few of the goalies who continued to wear this style of mask even as more protective and advanced designs were developed. Most frequently, a Cooper SK2000 player's helmet was fitted with a cage, providing better vision and air flow compared to a more traditional fiberglass mask. A lack of neck protection and inadequate protection against impacts eventually made these masks obsolete at higher levels of hockey.
By the 1990s, manufacturers had dialed in the combo style mask, leaving goalies more protected than ever. Companies began to experiment with exotic materials such as carbon fiber and aramid fiber (Kevlar) layers sandwiched between the fiberglass for added rigidity, durability, and impact resistance.
Arguably the most influential goal mask of the modern age is the Profile mask designed by Jerry Wright in the early 1990s. This mask with aggressive, chiseled lines and a sleek look was soon adopted by Itech, leading to the introduction of the Itech Profile 960 and 961. Over 20 years later, nearly this exact mask design continues to be produced by Bauer as the 960 (or 961 with a cateye cage), 950, 940, and 930, and has remained a mainstay in NHL locker rooms with a majority of goalies using a version of this mask still today.
Face-Hugging Style
Developed as one of the earliest styles of goalie masks, the face-hugging style was primarily made of fiberglass and was form-fitted to the goalie's face. This style became prominent in the game as goalies transitioned from not wearing masks to protecting their face in NHL games. The face-hugging style also was popularized in pop-culture, the most infamous being fictional character Jason Vorhees in the Friday the 13th movie franchise. This style of mask evolved significantly over time, with major adaptations for neck protection, better sightlines and breathability, and ultimately the addition of rubber and foam padding to help with both comfort and protection.
Combo "Birdcage" Style
In the Early 1980's, goalies began to experiment with player's helmets and a full face shield for protection. This style offered significantly better sight lines and with the cage separated from the goalie's face and provided significantly better impact dispersion than the face-hugging style. However it couldn't overcome its major drawbacks of a lack of neck protection and limited protection within the shell portion, as the helmet itself was often made of plastic and basic foam. Many goalies used this style through the 1990's and early 2000's, including Dominic Hasek, Artus Irbe, and Dan Cloutier.
Modern Combo Style
Through many generations of goalie's the modern combo style of mask has endured with minimal changes to the overall concept. A wire cage is affixed to a composite shell (typically made of fiberglass, carbon fiber, and/or kevlar) with a floating backplate to secure the mask to the goalie's face. High impact zones of the forehead and chin are contoured and reinforced to disperse the puck's energy away from the front of the mask and away from the goalie's head. Commonly, these masks are outfitted with comfortable vinyl nitrile or EVA foam, but recent advancements have pushed for the use of advanced gels and revolutionary foams.
Goalie Masks Today
Today, manufacturers continue to advance goalie mask technology with exotic materials, often borrowing materials from aerospace applications to tailor masks to a level of play. Advanced level masks are typically made with carbon fiber and aramid fiber blends, with additional attention paid to the high impact areas of the forehead and chin. Masks typically feature a stainless steel cage, although some companies have experimented with titanium alloy cages for increased weight savings. Inside, companies have found proprietary blends of foam and gel to offer unparalleled comfort and impact absorption previously not seen in masks. Materials such as Bauer's Poron XRD foam and CCM's D3O foam have impact properties that aid in the protection of advanced level masks.
Goalie Mask Designs
Quite possibly the most iconic way a goalie stands out from the rest of his/her team is the artwork that dons their goalie mask. Most goalies in professional hockey and many goalies in amateur leagues use their mask as an expression of their personality, hobbies, or any other thing they find interesting or amusing, often using the backplate as a personal touch to stand apart from the rest of the mask. Goalies go above and beyond in their designs, creating eye-catching artwork that stands apart from the rest whether seen on TV or live at the local rink. Here we'll cover a few of our pics of the most iconic goalie mask artwork of all time focusing on the new-age of masks from the 90's to the present.
Curtis Joseph's "Cujo" Mask
Any fan watching hockey in the 90's and 2000's surely will recognize this mask. Curtis Joseph first donned the "Cujo" snarling dog mask design in his first season with the St. Louis Blues in 1989 and kept the same design (with variations in color) for his entire career. Painted by David Arrigo, Joseph sported the Wright Profile/Itech 961 mask for his entire career, ultimately giving input to his own signature "long chin" variant of the 961 model.
Eddie Belfour's "Eagle" Mask
Nearly as iconic as the "Cujo" mad dog mask was Eddie Belfour's "Eagle" mask. First sported as a member of the Chicago Blackhawks, Eddie's mask was painted by Todd Miska of Miska Designs. His mask of choice through his career was a custom Warwick brand mask and the Eagle design quickly earned him the name Eddie "The Eagle".
Felix Potvin's "Felix the Cat" Mask
Surprisingly, Felix "The Cat" Potvin's mask didn't feature Felix the Cat's image, but rightfully so. Potvin's simple yet iconic mask design is still replicated to this day by aspiring goalies. On a custom Warwick shell, this iconic mask was originally painted by Sylvie Poitras.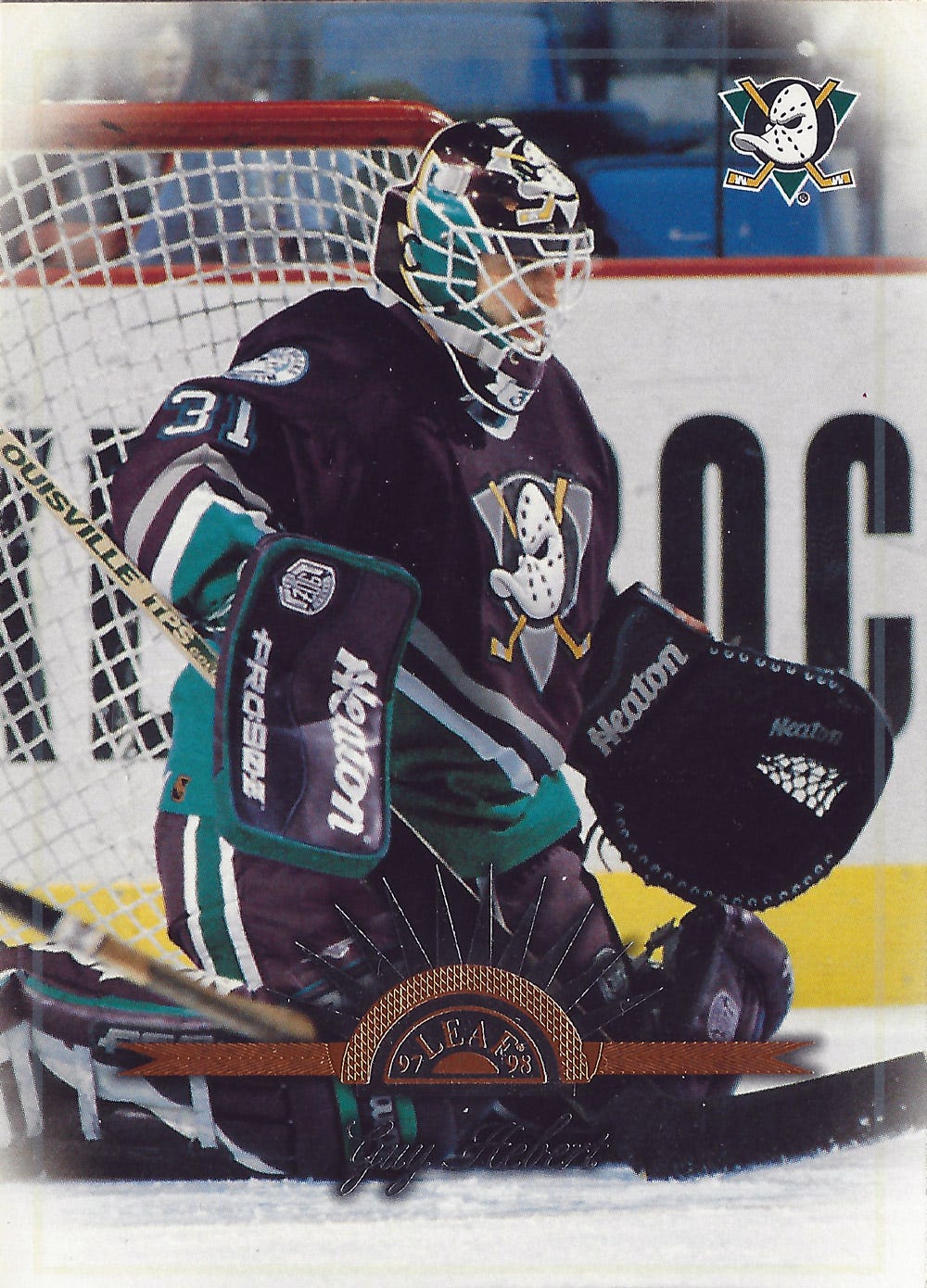 Guy Hebert's "Duck Wings" Mask
Guy Herbert was a mainstay with the Anaheim Mighty Ducks through the 1990's and in this time, he was sure to cement his place in Mighty Ducks history with his "Ducks Wings" mask. This simple, yet effective mask was the perfect icing on the cake to his setup of gear and since then, this theme has been honored by many Ducks goalies since including current netminder John Gibson. Guy Herbert was one of few goalies to wear a Cubberly mask, a custom mask produced in the 90's and 2000's.
Mike Richter's "Statue of Liberty" Mask
To round out our list of the Top 5 goalie mask designs of the 1990's to present, we finish with another mask produced by Ed Cubberly; Mike Richter's "Statue of Liberty" mask. Used throughout his illustrious career with the New York Rangers, Richter's mask featured a bold, patriotic theme to compliment the Ranger's red, white, and blue uniforms. This iconic mask still remains one of the most famous mask to come out of the 1990's.
Hockey Goalie Mask FAQs
Who was the first goalie to wear a mask?
Elizabeth Graham, a goalie for the Queens University hockey team is credited with being the first goalie to wear a face mask in an ice hockey game when she wore a fencing mask.
When was the first time an NHL goalie wore a mask?
In 1959, after being struck in the face by a shot and receiving stitches, Jacques Plante of the Montreal Canadiens became the first goalie to wear a face mask in an NHL game.
When did goalie masks become required in the NHL?
Helmets became required for all new NHL players and goalies in the 1979-80 season. Players who previously played in the league were grandfathered into prior rules that did not require helmets.
What are goalie masks made of?
Modern goalie masks are most commonly made out of composite materials, including fiberglass, carbon fiber, and aramid (Kevlar) fibers. Most junior and youth masks and lower priced models are made of high-impact polycarbonate for a lower price point offering.
This article was originally published on march 31, 2022, and has been updated with new information.