As we approach the end of the year with 2020 right over the horizon, we take the opportunity to look at some of the biggest moments in goaltending from 2010 to the very end of 2019. We had trouble narrowing this list down to only 5 moments and ranking them accordingly so, we decided to put a total of 8 moments together and share them in order from the date of occurrence, starting in 2011 with our first moment.
Tim Thomas (2011) – Cup Run & Conn Smythe
One of the craziest runs from a goaltender in league history. Tim Thomas single handedly brought the Boston Bruins to their cup in 2011 with outstanding performances through every single round and earning himself the Conn Smythe without question.
Johnathan Quick (2012) – Cup Run & Conn Smythe
This one might come off as repetitive due to Tim Thomas' run, but this one was something special. Quick was absolutely stunning this entire series and brought his Kings to their very first Stanley Cup in franchise history. Seemingly coming out of nowhere, Johnathan Quick continued his success in a second cup only 2 short years later.
Martin Brodeur (2015) – Jersey Retirement
An event that represents so much for the city of New Jersey and the Devils franchise. Truly, one of the greatest goalies of all time had the pleasure of retiring his jersey with the franchise he spent 24 years with. Marty has an extensive list of league records along with 3 Stanley Cups with the Devils. A truly historic moment that should be mentioned.
Scott Darling (2015) – Saving the Blackhawks playoffs
Although it was early in the playoffs, without Scott Darling, the Chicago Blackhawks never would have won their 3rd cup and made themselves a dynasty. During Game 1 of the Western Conference Quarter Finals, Crawford came out weaker than ever letting in 3 goals on only 12 shots. Between periods, Darling was given the nod to take over for the rest of the game and played the game of his life shutting out the Nashville Predators with 42 saves in a double overtime victory. Darling went on to play 5 games in the playoffs with a .936 save percentage to help push the Blackhawks to the cup in 2015.
Matt Murray (2016-2017) Back to Back
The last team to have won back to back cups was the Detroit Red Wings in 1997 & 1998. What this Penguins team did was something that will be stamped into history for as long as the NHL stands. One of the most astonishing things about the 2016 cup run is that Murray ended up playing more games in the playoffs than the regular season after a somewhat struggling Fleury had a run of bad games early in the playoffs. Fleury still had a huge help during this back to back but Matt Murray showed he was capable of taking over this team as a first year goalie with 2 cups in his first 2 years in the NHL.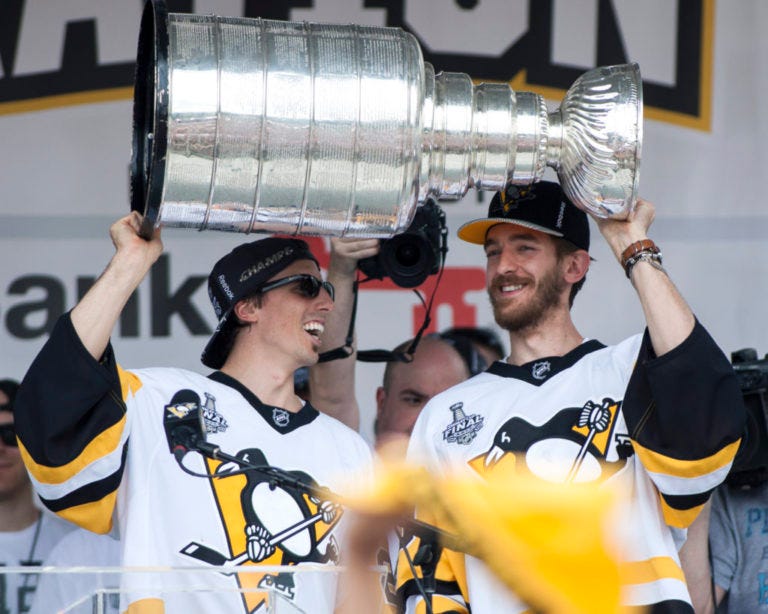 Maddie Rooney (2018) – Gold Medal Shootout
After the USA Women's Gold Medal at the Olympics in Nagano in 1998, they were never able to recapture another Gold at the Olympics until 2018. Although Team USA was able to win 8 World Championships since 2005 with a current consecutive World Championship streak at 5, USA felt short every year at the Olympics. After an upsetting loss at the 2014 Olympics with Canada scoring 2 goals to tie the game at 3:26 and 54.6 seconds left in the 3rd period taking it to OT to lose midway through the additional period, USA was prepared to break the streak. A 2-2 Gold Medal game against Canada which ends up going to a shootout between 2 time Gold Medalist Shannon Szabados and 20 year old goaltender, Maddie Rooney, is the deciding factor. Rooney comes up big for Team USA to end the 20 year losing streak and history is made.
Braden Holtby (2018) – "The Save"
Prior to this save, the first year Golden Knights team was looking as if they were about to smoke the Washington Capitals and have the greatest inaugural season of all time. Leading the Finals 1-0 at home, Braden Holtby changed the entire pace of the series with a single save. The Knights did not win a single game after this save and the Washington Capitals won their first Stanley Cup in franchise history.
Jordan Binnington (2019) – St.Louis Blues Cup Run
This one will stick in St.Louis and NHL history forever. Before the 2018-2019 season, Binnington had a bad wrap around the NHL with no one really believing he would be able to make it as a starter or even a backup. Before that season, Binnington had played 1 single NHL game which he had a .750 save percentage and a 4.69 goals against average but was always super solid in the AHL. Jordan Binnington the second he stepped into the NHL in 2018 was an absolute animal going 24-5-1 with a 1.89 goals against average through the regular season. I'm sure we all remember this run but if not, there's a 20 minute video of the 2019 playoffs of exclusively huge saves from Binnington. Notably, Jordan Binnington was in another element to take down the Boston Bruins in Game 7 of the Stanley Cup Finals. And Gloria was played.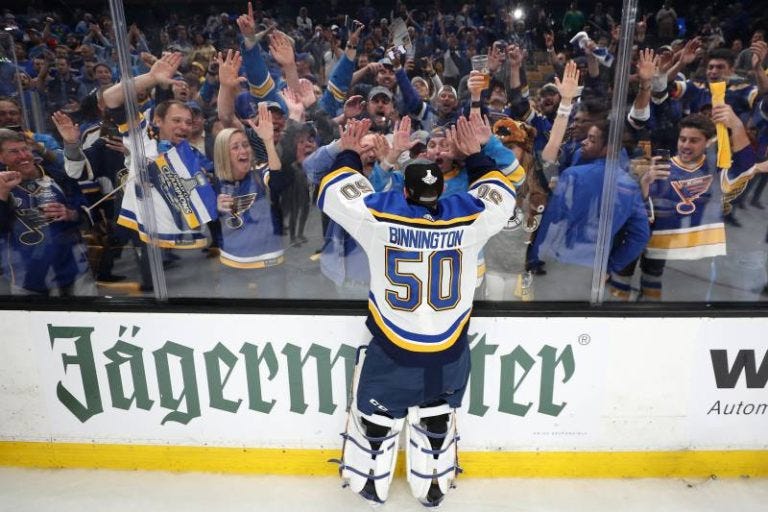 Thank you to everyone for reading our list and if you think we missed anything, let us know on Instagram! We are super excited for what's coming in 2020 so stay tune on our social media platforms!
---
Thank you to everyone for reading our list and if you think we missed anything, let us know on Instagram! We are super excited for what's coming in 2020 so stay tune on our social media platforms!
Don't forget to follow us on Social Media!
Instagram: _goaliemonkey_
Facebook: Goaliemonkey.com
Twitter: @goaliemonkey
This article was originally published on December 27, 2019, and has been updated with new information.