Happy Thanksgiving to all and I am sure everyone is excited about the upcoming holidays! November was an exciting month in the NHL with many teams finding their footing this season and some goalies proving themselves further this season. This month we are going to run through a couple of highlights and follow some quick storylines of goalies in the NHL.
League Leaders
Goals Against Average:
Darcy Kuemper – 1.97
Tuukka Rask – 2.04
Jaroslav Halak – 2.14
Save Percentage:
Darcy Kuemper – .936
Jaroslav Halak – .934
Connor Hellebuyck – .934
Wins:
Connor Hellebuyck & Braden Holtby – 14
Tuukka Rask, Jordan Binnington & Frederik Andersen – 13
David Rittich & Martin Jones – 12
Shutouts:
Pekka Rinne – 3
Hellebuyck, Rask, Rittich, Kuemper, Fleury, Mrazek, Halak, Hutton – 2
18-way tie for 3rd
Top 3 Goalies of the Month
Darcy Kuemper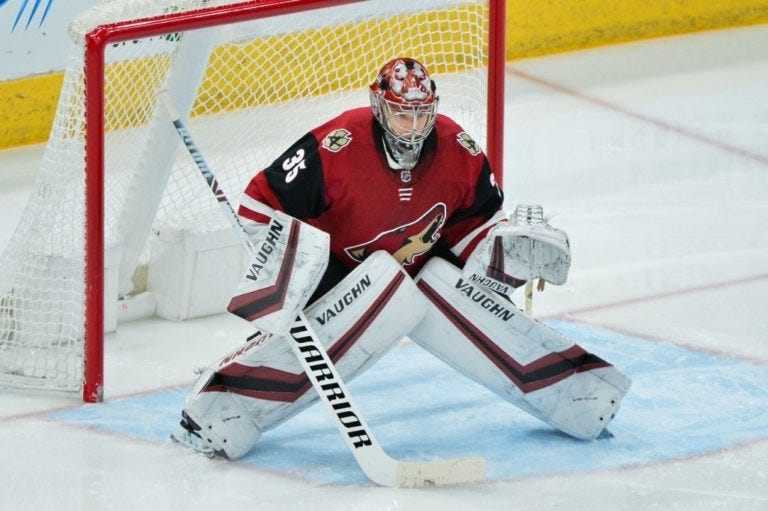 Tuukka Rask
Connor Hellebuyck
Discussion
First off, going a bit out of order is Tuukka Rask who continues to do Tuukka Rask things. Not really much to say about him since he is doing what a goalie in his position should. As a top 3 team in the league with a +36 goal differential, Rask has to make the saves he is expected to make to compete at this level and he has done just that. Hats off for being top 3 for two months in a row.
Next up is Connor Hellebuyck who is 3rd on the list. Out of the 17 wins from the Winnipeg Jets, Connor Hellebuyck has 14. This guy has been lights out for this team and pulled off 2 shutouts during it. Being top 5 in every goalie category isn't easy and he deserves to be one of our goalies of the month. In the month of November, Hellebuyck tended the net 11 times with the consistently high 90s through his starts and went 8 and 2 for wins and losses. Very excited to see if Connor Hellebuyck can push this defensively lacking Jets team.
Finally, our #1 goaltender of the month who was our honorable mention last month is Darcy Kuemper. What's the difference this month? The Coyotes are winning games. Kuemper is an absolute show stopper most nights even through his losses. #1 in GAA, #2 in Save Percentage, tied for #4 in wins and tied for #2 in Shutouts. Kuemper is one of the top contenders for the Vezina early in this season due to the circumstances of putting the Arizona Coyotes in contention to be a tough team to beat with his amazing performances. In November, Kuemper had 10 starts going 5-3-1. Very exciting things going on in the desert.
Honorable Mention
Jordan Binnington
Binnington is at least worth the mention. After his amazing run last season he left a lot of people wondering if he was going to be at all the same this season. From our point of view, Jordan Binnington has not disappointed. Currently sitting at a .925 save percentage with a record of 13-5-4, Binnington has helped take the Blues to a top 3 position in the entire league. Going to be very exciting to see what happens between Binnington and Jake Allen after this season with the expansion.
Milestones / Notable Events
Louie Domingue Called up, Cory Schneider Sent Down
This was something that needed to be done. The Devils have been a struggling team this entire season and Cory Schneider although it isn't completely the problem but, he was not helping it. Schneider through 6 games had a 4.59 GAA and a .852 save percentage which is not even close to an NHL standard. Mackenzie Blackwood at least is showing promise through these difficult times even though he sits just below a 90 save percentage. Schneider out, Domingue in. We actually might not see Domingue for very long with the way things are going. 3 games started with a 3.46 GAA and a .870 save percentage with a single win. Through the Devils 9 wins, Blackwood has the other 8 wins for the team, but they still sit at 30th just above Detroit.
Malcolm Subban Takes Control
After the unfortunate passing of Marc Andre Fleury's father, Malcolm Subban had to step up to the plate to help a bumpy Vegas Golden Knights team. VGK did call up recently acquired goaltender Garret Sparks as safety measures but he did not play. Malcolm has started a 5 back to back game stretch with the first being a loss in Dallas followed by 4 wins going into December 3rd. Previous to the game against the Stars, Subban was 0 and 3 on the season so it's nice to see some success for this team while Fleury is out.
Struggling Goalies
Cory Schneider would make this list again but he's in the AHL now. Like last year, Johnathan Quick is still under this category at dead last #52 even though he shows up on the saves on the month several times so, this is hardly something to worry about since the Kings are doing so poorly.
One of the goalies who is very notable, and we think should be way higher on the save percentage list is 51st overall Sergei Bobrovsky. Previously I have mentioned that he will even out and be at least middle of the pack, but he is at a poor .884 save percentage with a 3.48 GAA. Oddly, the Panthers are at 17th place in the league which is fairly in the middle of the pack and it sucks that their franchise goaltender pick up is not showing. Hopefully, we will see this pan out in a positive way for the Panthers and not be a waste of cap space.
Glad we could bring everyone up to speed with a couple different looks from this past month and we are excited to see things unfold in these important upcoming months.
Another month passed means another Best Saves video.
Don't forget to follow us on Social Media!
Instagram: _goaliemonkey_
Facebook: Goaliemonkey.com
Twitter: @goaliemonkey
This article was originally published on December 6, 2019, and has been updated with new information.