Marc-Andre Fleury has no doubt had a Hall of Fame career. Starting off with his Junior accomplishments, Fleury was named QMJHL's Best Professional Prospect, Defensive Player of the Year, and Second All-Star team as well as the U20 World Junior Championships Best Goals Against Average at 1.57, Best Goaltender, Most Valuable Player and earning himself a Silver Medal all in the 2002-03 season.
Later in 2003, Fleury was drafted 1st overall in the 1st round by the Pittsburgh Penguins and quickly entered the league that season, playing his first game on October 10th, 2003.
Moving a little further into his career, Marc-Andre Fleury brought his team to the Stanley Cup final in back to back years in 2008 and 2009, both against the Detroit Red Wings. Fleury made amazing saves through their losing series in 2008 with a .933 save percentage through the playoffs and came back the next year even stronger and obtained his 1st cup in 2009.
Fleury has gone on to win back to back cups as a tandem with Matt Murray in 2015-16 and 2016-17 before being picked up in the expansion draft by the Vegas Golden Knights as their franchise goaltender, leading them to an inaugural season Stanley Cup Final which they lost against a very hot Washington Capitals team.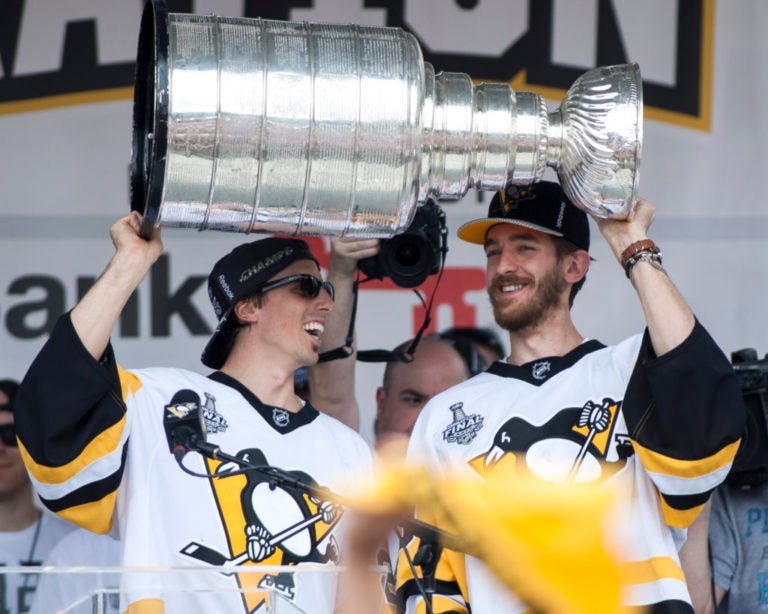 A couple of career highs from Marc-Andre Fleury came in as a tie for most games played in a season at 67 in 2006-07, 2009-10, and 2011-12. His highest career save percentage was surprisingly in the recent inaugural season of the Golden Knights in 2017-18 at .927 in both the regular season and playoffs. His lowest goals-against average also came in the same 2017-18 season with VGK where he held a 2.24 through the regular season and playoffs.
Looking at all of these accomplishments, does this make Fleury the greatest of all-time?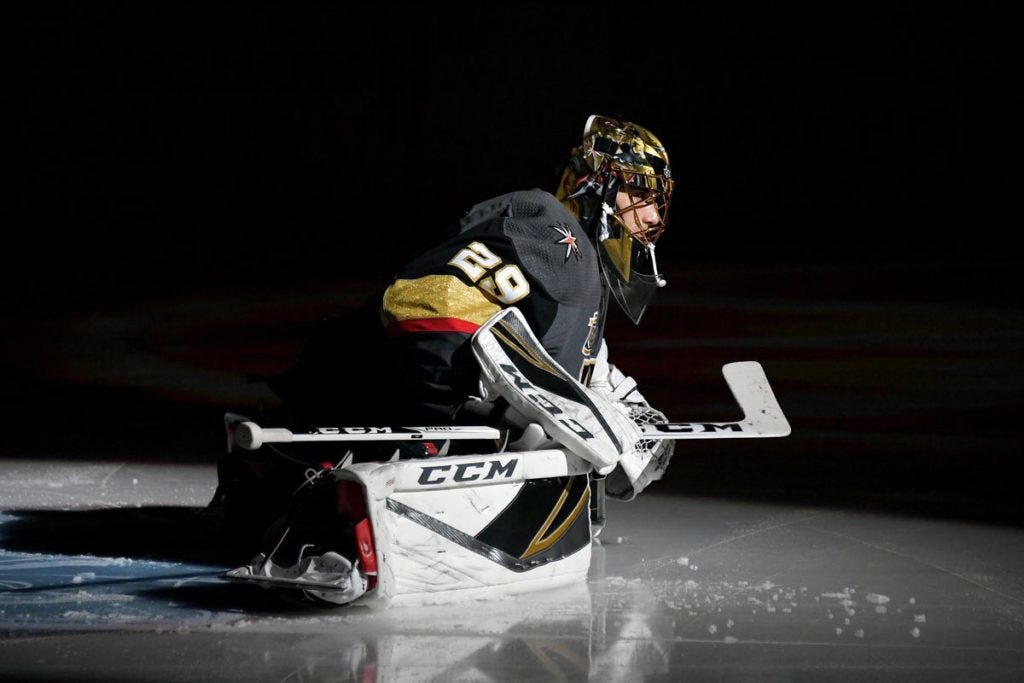 Another way to consider Fleury as the Greatest of All-Time is his position on the All-Time wins list. Marc-Andre Fleury currently sits at 7th on the list with the only active goaltender, Henrik Lundqvist, being only 5 wins above him at this current time. By the end of his career. I would hope to imagine Fleury will pass Roberto Luongo who is at 489 wins and solidify himself at 3rd on the all-time list. Is Roy at 551 unreachable though?
Marc-Andre has quite the resume that pushes himself to be thought of as one of the greatest goaltenders in the history of the game and with the current state of the game, he should be considered. The top 2 goaltenders on the wins list played at different times of the NHL where Roy and Brodeur both played consistent 60-70 game seasons. The reachable one being Roy, played 19 seasons while Fleury is currently in season 16 with one of those being a lockout year where he played 35 games.
With that being said, Fleury needs to win 103 games to reach Roy. Fleury has been consistently winning around 30+ games in recent years, minus his injuries in 2017 and Murray playing most games in 2016 before he was picked up by VGK. If he consistently wins 30 games, he will beat Roy around 3 and a half years, less if he keeps going with the mid-30s wins. On the low end, if he were to win only 20 games, it would take him just over 5 years and would be 39 years old by that time. Beating Roy on the win list is very obtainable for Fleury.
Now let's just throw out a what-if… Let's say Fleury goes on track and beats Roy's wins in the next 3 years by getting just over 30 wins a season. Going on to his 19th year, Fleury would be 37 years old and by theory let's say he just beat the record that past season and reached 552 wins, which would be in 2021-2022. Entering the 2022-23 season with 552 wins, it would take Fleury an additional 5 ½ years to beat Brodeur at 691 if he were to win 25 games a year. Unlikely Fleury will play until he is 42 but who knows if he's a superhuman yet or not. Becoming the all-time wins leader looks to be very out of reach but I can see Fleury easily becoming 2nd overall and even pushing win 600 in his retiring years.
Do you think Marc-Andre Fleury is the greatest goaltender of all time?
This article was originally published on November 11, 2019, and has been updated with new information.