Coming in for Bauer goalie in 2019 is the Bauer Vapor 2X line of goalie equipment that is available for two separate models up for customization in the form of the Bauer Vapor 2X Pro Senior Custom and the Bauer Vapor 2X Pro Custom Senior Custom. You might be wondering when looking at the names what is the difference between the two options beside the price?
Starting off by talking about the Bauer Vapor 2X Pro Senior Custom Goalie equipment, this set will be a great representation of previous years custom options that brings you standard customization on the specs and colors. The 2X Pro Senior gives you the option between black and white assembly lace on all pieces of equipment and black or white lace on the glove pocket as opposed to many other color options on the 2X Pro Custom set.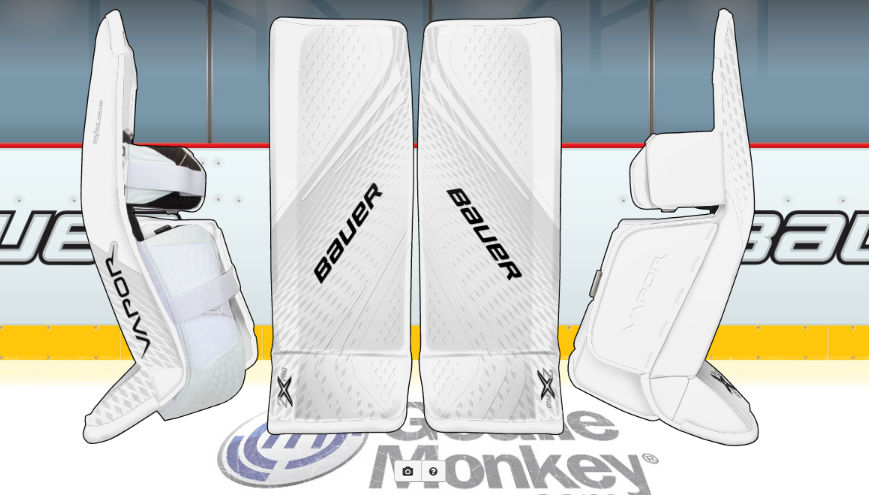 Going in to depth with the specs of the Bauer Vapor 2X "Pro Senior" Custom set and Bauer 2X Vapor "Pro Custom" Senior Custom.
*= Bauer Vapor 2X Stock Option
Leg Pads
Back Cover:
White*
Black (2X Pro Custom only)
The back cover is self-explanatory and covers the entire back of the pad as well as the knee flap and calf wrap.
Thigh Flex:
Dynamic Flex (Soft)*
Square (Stiff)
Extra Stiff (2X Pro Custom only)
Thigh flex comes stock as soft like the 1X which makes the pad very flexible but could be changed to be stiff like the Bauer 2S leg pads. Extra stiff is available on Pro Custom for an even stiffer thigh flex that will keep the pads in a consistent shape through usage.
Knee Block:
Angled*
Square
Pro Bump (2X Pro Custom only)
An angled knee block helps prevent interference between the leg pads when moving around in the butterfly for better mobility on the ice. The Pro Bump option is available to create a more stable knee landing for the goaltender.
Knee Wing:
The adjustable knee flap option allows the goaltender to either adjust the tension of the spec or remove it completely. A sewn in option can be used for a goaltender who wants this spec in place for their own liking and completely attached to the pad.
Calf Wing Elastic:
Standard*
Plus 1 inch (2X Pro Custom only)
The Calf wing elastic sits across the middle of the goaltender's calf and pulls the calf wrap in. Adding an inch to this strap allows for a looser fit for a goaltender who may prefer that feel in the pad as opposed to a tighter fit.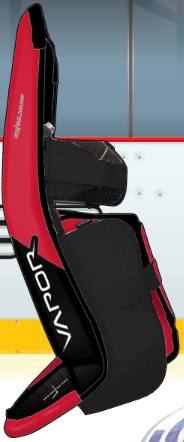 Insert Profile:
Vapor (Thin)*
Supreme (Thick) (2X Pro Custom only)
Insert profile determines how thick the pad will be and is noticeable from looking at the side profile. Stock comes as the thin Vapor option that makes for a lower weight pad that will be more mobile as opposed to the Pro Custom that can have the Bauer Supreme 2S profile which is slightly thicker and might feel more natural to a goalie.
Toe Attachment:
H.A.L. Pro Strap*
CRS Stretch Lace
Skate Lace
Center/Offset (2X Pro Custom only)
The standard H.A.L. strap is a flexible toe option that allows for deep pushes that will bring the pad right back to the goalie's leg. CRS Stretch Lace is flexible lace and was stock on the Bauer Supreme 2S. 2X Pro Custom will have the ability to center the toe option for a goalie who does not like an offset toe attachment.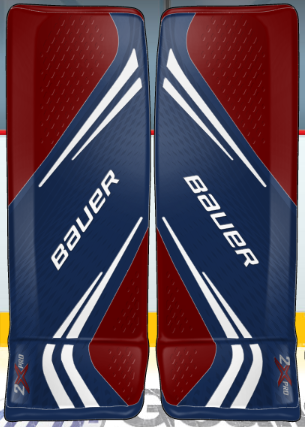 Boot Strapping:
CRS in box*
CRS assembled
Leather
Short/Long
CRS Straps will come with every set of 2X leg pads and can be attached manually after purchase but can be assembled during manufacturing for a goaltender who knows they want a boot strap. CRS straps can be ordered in short or long lengths. Leather strapping is available for a goaltender who prefers a traditional feel of a boot strap.
Catch Glove: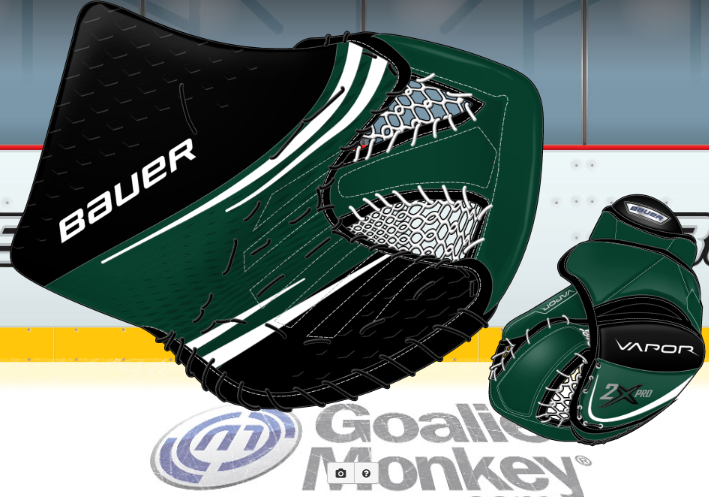 Pocket T-Trap:
Single*
Double
Double Reinforced (2X Pro Custom only)
Single Reinforced (2X Pro Custom only)
The T-Trap goes through the center of the pocket and can be changed to a double T to provide more visibility through the pocket. Pro Custom offers a reinforced T for both single and double that will improve the durability and prevent the T from collapsing after long term use.
Hand Size:
Intermediate hand size is available for someone who has a smaller hand or likes a tighter fit inside the glove.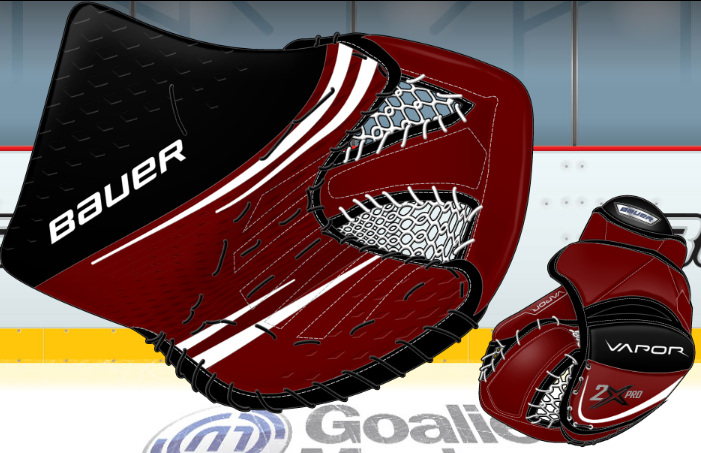 Palm Stiffness:
Game Ready*
Pro Palm
Practice Palm (2X Pro Custom only)
A Pro Palm will feel more stiff than a game ready and will feature added foam backing on the palm. The practice palm will feature a reinforced poly base, extra layered foam backing, and poron in the thumb zone for added protection.
Palm Material:
Catch Grip*
Quattro Nash (2X Pro Custom only)
Quattro Nash is a material available only for the 2X Pro Custom and gives the goaltender and even better grip while being more comfortable than the catch grip material that comes stock on the Pro Senior.
Blocker:
Thumb Pillow:
Remove thumb pillow (2X Pro Custom only)
You can have the thumb pillow removed for comfort and thumb mobility.
Hand Size:
Intermediate is available for a goalie with smaller hands or might want a tighter fit and the XL size is available for a goaltender who might have bigger hands and needs a bigger palm.
Final Comparison:
Pro Senior:
8-10 Week delivery time
+$100 for full set
Basic customization options
Pro Custom:
6-8 Week delivery time
+$200 for full set
Expanded customization options
When going for the Pro Custom option you get an expanded menu for customization that will help you get exactly what you want in a leg pad along with more in depth color options for small details. While being the higher price, the Pro Custom not only brings you all the extra options but will also arrive faster than the Pro Senior.
There is nothing stopping any goaltender from mixing and matching options between the Pro Senior and Pro Custom. If you want a set of leg pads, glove, or a blocker that fit in the specs and color options of the Pro Senior, then there is nothing stopping you from choosing that if you are going with any other item in the Pro Custom spec options. All customization options are separate pages so that you can add all of the pieces of equipment to a cart to get the exact set that you need.
Check out all of the Bauer custom options now on GoalieMonkey.com!
This article was originally published on June 20, 2019, and has been updated with new information.